Settler Colonial City Project
Location: Chicago Cultural Center, Chicago
Client: Chicago Architecture Biennial
Scope: Exhibition Design
Progress/Year: 2019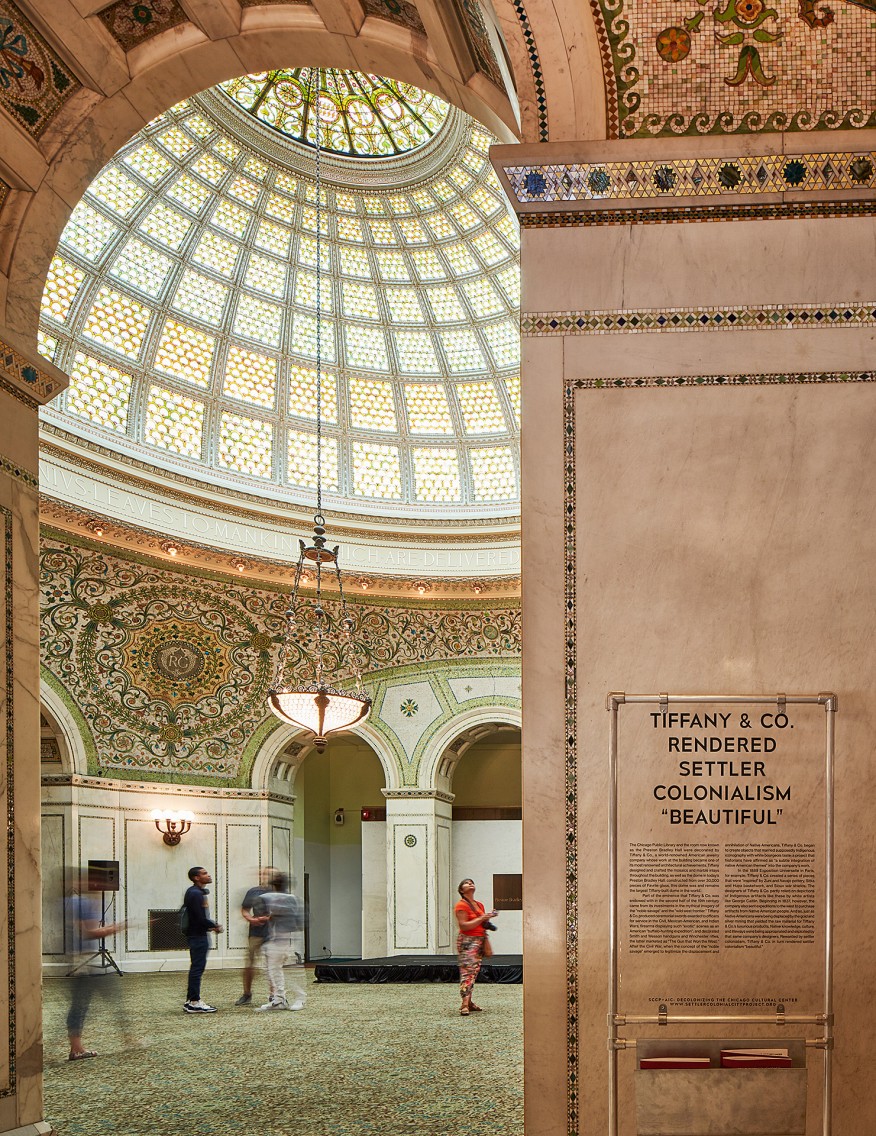 The Settler Colonial City Project is a research collective focused on the collaborative production of knowledge about cities on Turtle Island/North America as spaces of ongoing settler colonialism, Indigenous survivance, and struggles for decolonization.

The concept of "settler colonialism" has recently emerged as a name for a distinctive form of colonialism that develops in places where settlers permanently reside and assert sovereignty. While the settler colonial dimensions of American cities have been centered in contemporary urban activism, these dimensions have been, at best, only tentatively explored in contemporary architectural and urban studies. Investigating the settler colonial history and contemporaneity of cities on Turtle Island/North America (and similar examples beyond), we aim to foreground Indigenous knowledge of and politics around land, life, and collective futures, as well as settler colonialism as an unmarked structure for the distribution of land, possibilities of life, and imagination of those futures.




At the 2019 Chicago Architecture Biennial, the Settler Colonial City Project worked in partnership with the American Indian Center of Chicago. The following people and organizations were part of SCCP in Chicago:

Andrew Herscher (co-founder)
Ana María León (co-founder)
Future Firm
Emily Kutil
Tyler Schaafsma
Some All None
Christine Hwang
Linda Lee
Lei Nie
Anjelica Hope Perez



The following people contributed their knowledge and insight to the work of the project:

Ayala Levin, Northwestern University
John N. Low (Pokagon), Ohio State University
Heather Miller (Wyandotte), American Indian Center
Tim Samuelson, Chicago Cultural Center
Meredith TenHoor, Pratt Institute

The Settler Colonial City Project labors in the traditional territories of the Council of the Three Fires—the Ojibwe, the Odawa, and Potawatomi. We recognize Indigenous sovereignty, the ongoing effects of colonization and colonial state violence, and the global struggle for self-determination of Indigenous communities.